Ve Neill – Director of Education
Ve Neill joined Cinema Makeup School as permanent Director of Education in 2016. She is among the most decorated living makeup artists. Ve has won 3 Oscars and been nominated 7 times. She also has 2 Emmy Awards, 1 BAFTA, 4 Saturn Awards and a lifetime achievement award from the Make-up Artists and Hair Stylists Guild.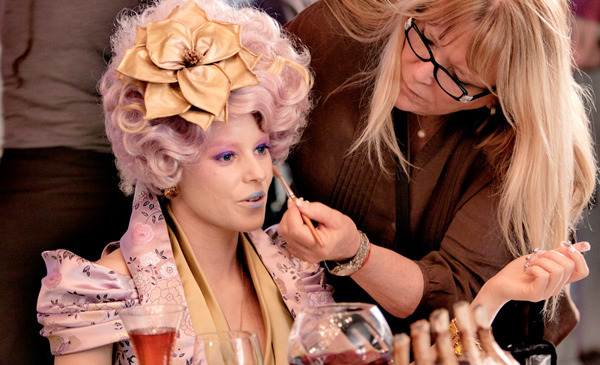 Ve is most famous for her collaborations with A-list actors such as Johnny Depp and Jennifer Lawrence and a versatile technique that shines regardless of the project. From the whimsical creativity of Pee Wee's Playhouse and her films with Tim Burton to her studied realism in such films as Hoffa and LBJ: All the Way, Ve Neill's work is essential viewing for any serious movie makeup artist or fanatic.
Ve Neill is also a tireless advocate for the art of makeup. She is familiar to TV viewers as a judge on Syfy's Face Off, where she builds awareness of the craftsmanship behind movie creatures to the general public. When she is not on set, Ve dedicates herself to educating and mentoring young artists.
Film & Television Credits
Shock and Awe (2017)
LBJ (2016)
Pee-wee's Big Holiday (2016)
The Hunger Games: Mockingjay – Part 2 (2015)
The Hunger Games: Mockingjay – Part 1 (2014)
X-Men: Days of Future Past (2014)
The Amazing Spider-Man 2 (2014)
The Hunger Games: Catching Fire (2013)
The Host (2013)
The Amazing Spider-Man (2012)
The Hunger Games (2012)
John Carter (2012)
Trespass (2011)
Priest (2011)
The Soloist (2009)
I Love You Phillip Morris (2009)
The Love Guru (2008)
Barbiere, IL (2008)
Sweeney Todd: The Demon Barber of Fleet Street (2007)
I'm Calling Frank (2007)
Pirates of the Caribbean: At World's End (2007)
Creature People (2007)
Eragon (2006)
Pirates of the Caribbean: Dead Man's Chest (2006)
The Weather Man (2005)
Constantine (2005)
The Chronicles of Riddick (2004)
Twisted (2004)
Duplex (2003)
Pirates of the Caribbean: The Curse of the Black Pearl (2003)
Austin Powers in Goldmember (2002)
Jack Pierce: The Man Behind the Monsters (2002)
Death to Smoochy (2002)
A.I. Artificial Intelligence (2001)
Blow (2001)
How the Grinch Stole Christmas (2000)
A Tribute to the Wizard of Oz (1999)
Galaxy Quest (1999)
Man on the Moon (1999)
Stigmata (1999)
From the Earth to the Moon (1998)
Amistad (1997)
Gattaca (1997)
Batman & Robin (1997)
The Shining (1997)
Mars Attacks! (1996)
Matilda (1996)
Batman Forever (1995)
Cobb (1994)
Junior (1994)
Ed Wood (1994)
Mrs. Doubtfire (1993)
Hoffa (1992)
Batman Returns (1992)
Hook (1991)
Curly Sue (1991)
Edward Scissorhands (1990)
Flatliners (1990)
Dick Tracy (1990)
Pee-wee's Playhouse (1987-89)
Christmas at Pee Wee's Playhouse (1988)
Big Top Pee-wee (1988)
Beetlejuice (1988)
The Lost Boys (1987)
The A-Team (1983-86)
Radioactive Dreams (1985)
Jane Doe (1983)
Slapstick of Another Kind (1982)
Monty Python Live at the Hollywood Bowl (1982)
Lily for President? (1982)
The Sword and the Sorcerer (1982)
The Incredible Shrinking Woman (1981)
9 to 5 (1980)
Star Trek: The Motion Picture (1979)
The Day Time Ended (1979)
The Dark (1979)
Tourist Trap (1979)
Laserblast (1978)
Shoot the Sun Down (1978)
The Private Files of J. Edgar Hoover (1977)
Kingdom of the Spiders (1977)
Cinderella (1977)